'People are living'
Photographer Chris Bethell had a wander around Gunnersbury Park in the sunshine and spoke to revellers about what they love about London and Lovebox.
Flaurese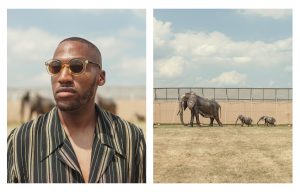 What does London mean to you?
F: Love, hope, aspiration. I've always lived in London so it's home to me.
Do you think Lovebox does well to represent London?
F: Oh yeah, 100%. I think it's always bringing people together – especially start ups and setting up big parties. It helps the London music scene massively as people are now being given opportunities in smaller genres. Lovebox is giving them a chance with stages like FACT Magazine and there seems to be a lot more love for dance music this year.
What are you excited for this weekend?
F: To see Childish Gambino and Dennis Sulta, people will be getting hyped.

Edie and Georgia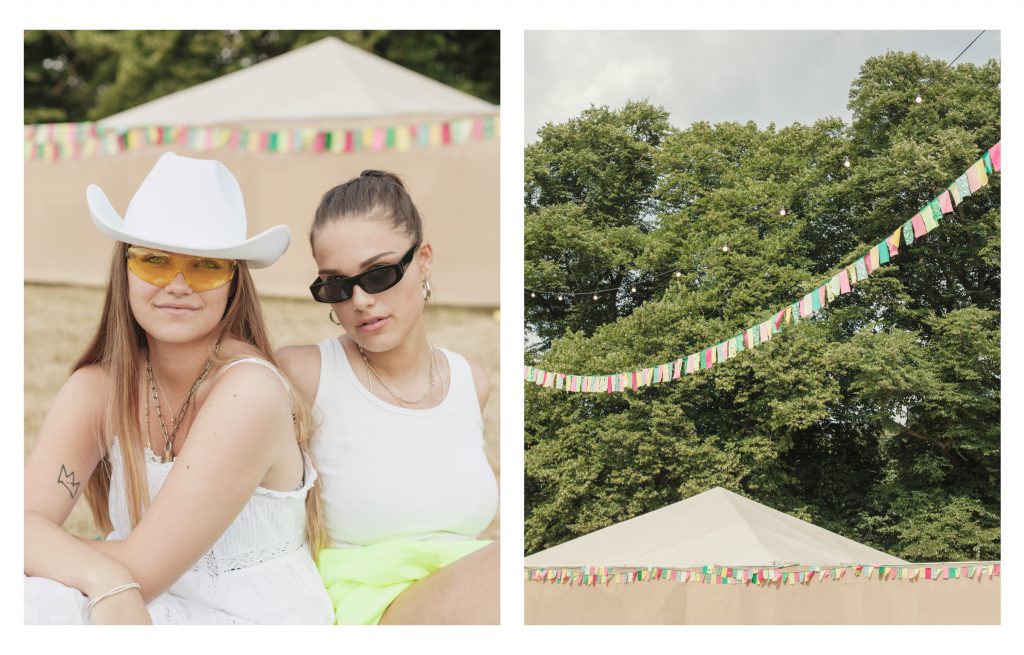 What does London mean to you?
E: London means everything. London is home for us.
G: London is diversity and people coming together.
E: The best city in the world.
What do you think London does for its music scene?
E: I think London has the best music scene ever. I think right now all of the rap and trap artists emerging from the underground scene are amazing. We just saw Franc Moody – they were playing the Noisey stage and were really fun.
G: I've been to quite a few day festivals and this one seems to have the best vibe. It's not over commercialised, it's really special.
What is your favourite memory of previous Loveboxes?
G: It was Frank Ocean. He literally didn't have any other dates. He came out and I started balling my eyes out. Everyone was so captivated. It's one of the best experiences I've had at a festival.
Brian and Sven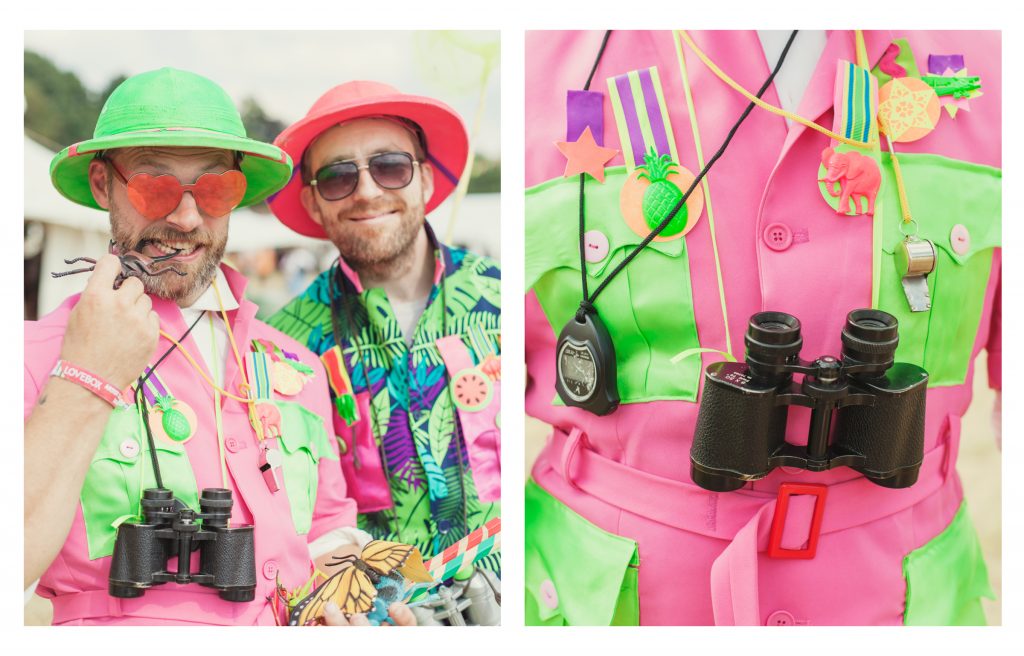 Are you both from London?
S: No, i'm from Norway.
B: I was born in Oxford University.
S: Mostly we are travelling, living a nomadic lifestyle.
B: We have been travelling around the world.
S: At the moment we are in the Neon Safari looking at all the animals.
B: Collecting information and traversing all the jungles.
S: We're trying to work out how big the jungle is.
B: Any idea how big it is?
I honestly don't know, how big do you think the jungle is?
S: Well from our studies so far we can happily conclude that it is possible for the jungle to be massive.
B: It's definitely huge.
S: It might well be massive.
Torren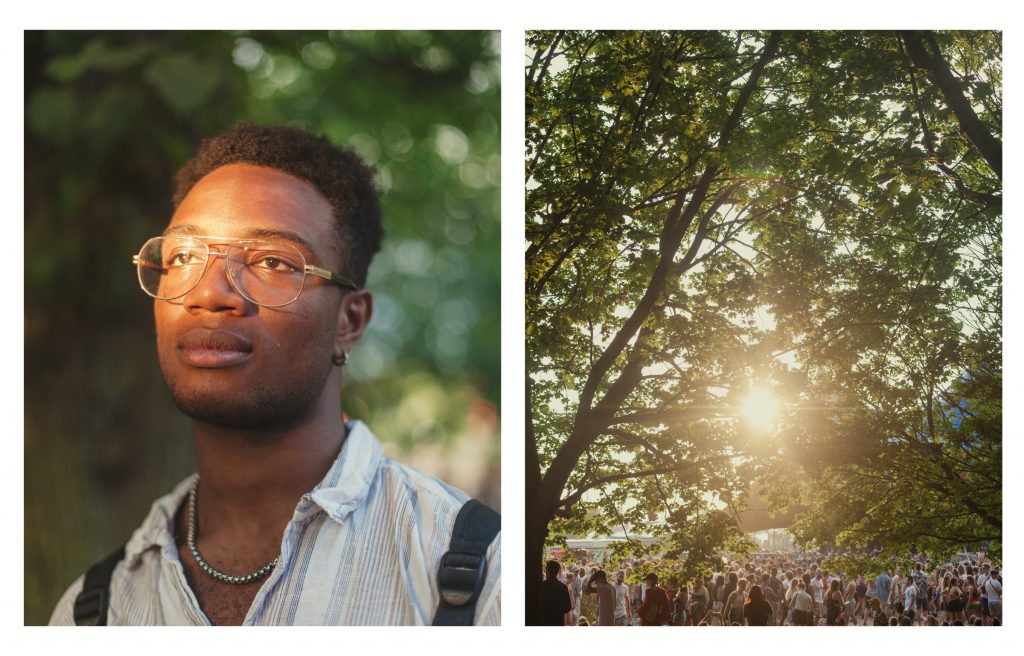 Is this your first Lovebox?
T: It is indeed.
What's been the best moment so far?
T: I snuck backstage and I got to see some of the artists hanging around. I saw Steve Lacy from The Internet! I'm still excited to see Childish Gambino later.
What do you think of London?
T: It's one of the most incredible cities in the world.
Danielle & Ali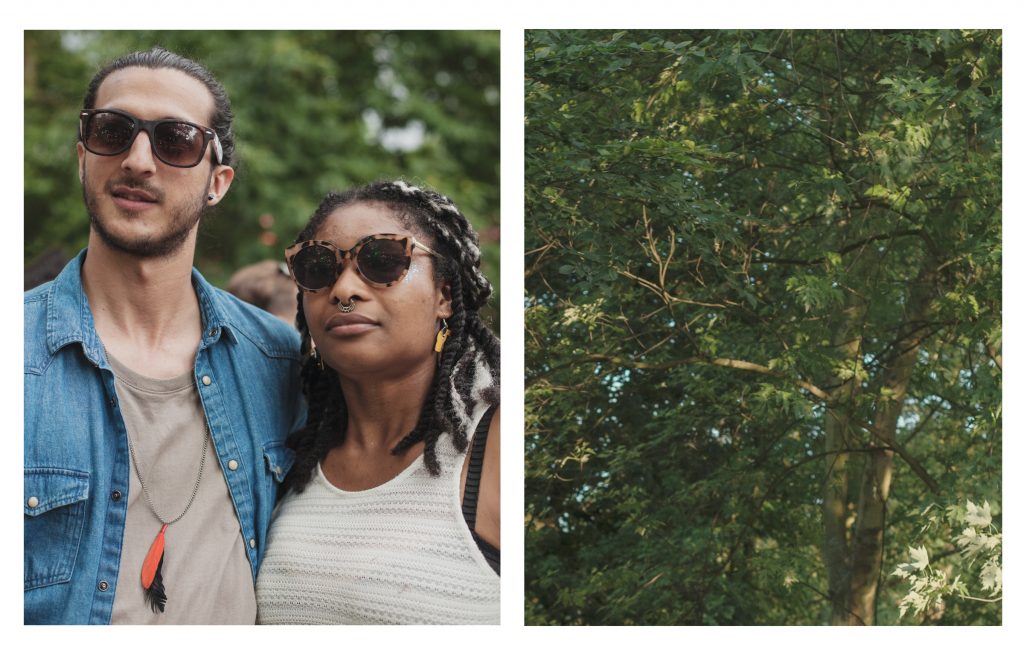 Are you both from London?
D: We're from Reading!
What does London represent to you?
D: Diversity, definitely diversity. You can get what you want when you want in London, it's the mother-fucking-shit.
A: First thing that pops into my head when I think of London is the Royal Family.
D: No way!
A: Yeah, Buckingham Palace! Either that or the parliament buildings.
What's your favourite memory of  Lovebox?
A: The sole reason I first came was to see Jurassic 5. I'm such a big fan of them, it was so good to see them. They're quite an old band and have only just recently come back together, I felt really privileged to see them.
And Danielle, what's your favourite moment from today?
D: It was in the Noisey tent. It was MHD – some random French group but they were so good. I was trampling on everyone, I didn't care.
Alexei and Jan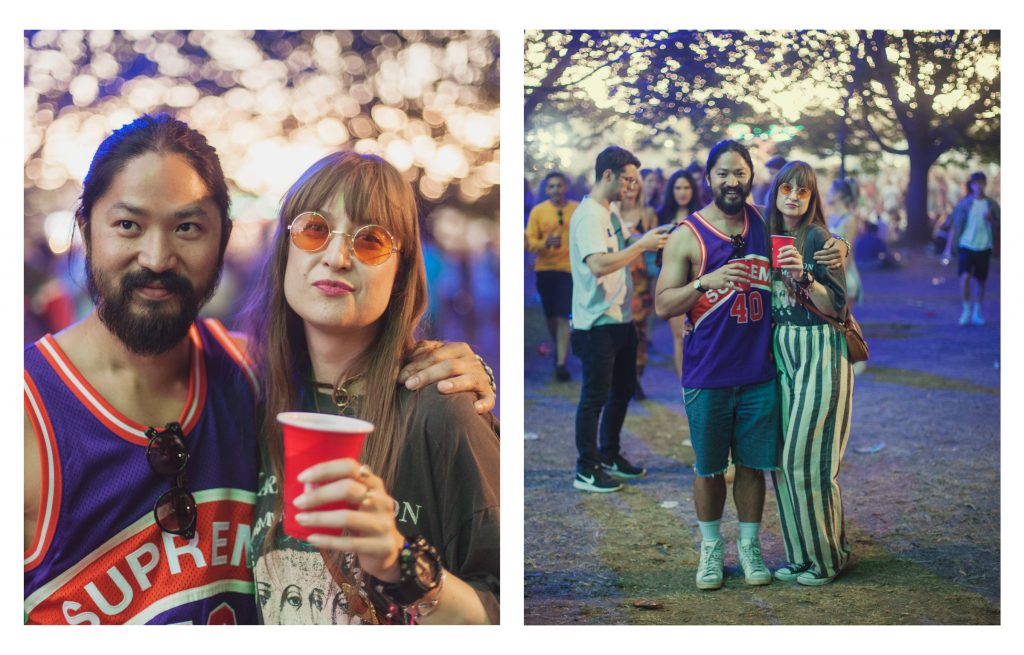 What does London mean to you?
A: Home. I grew up here and i've been here all of my life. I have a love/hate relationship with London – it's losing its soul a little bit and its character. It was a very different city when I was growing up.
J: It's a home away from home for me.
What's one of your favourite Lovebox memories?
A: I loved Horse Meat Disco. It was so much fun. It was always also acts that I didn't know about but would discover at Lovebox. A lot of the time it was the atmosphere as well. I think this new park has managed to retain that – I love this park.
Taylor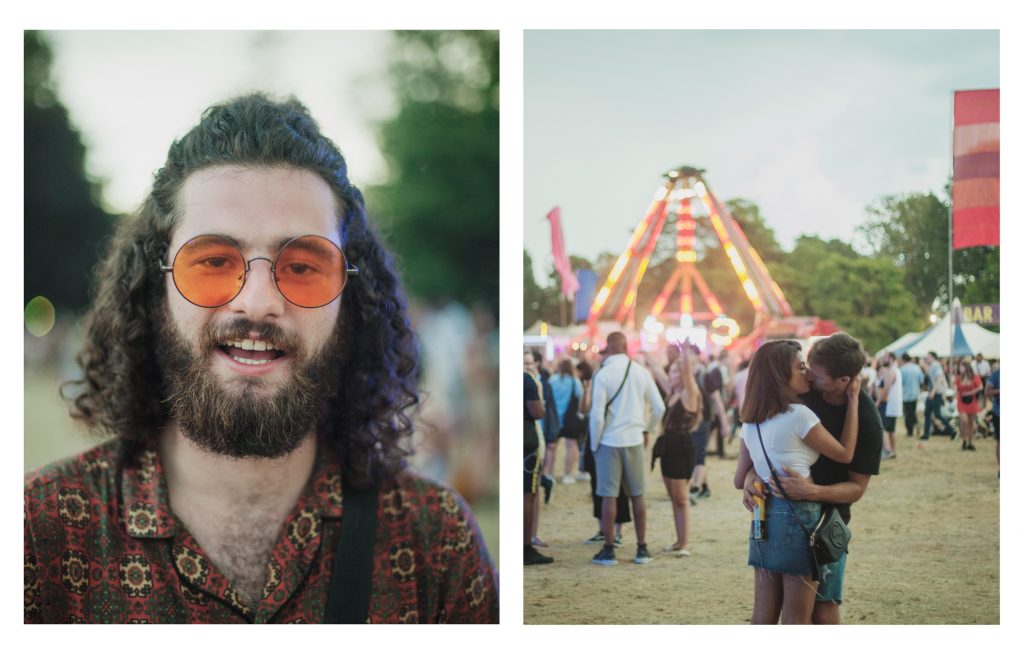 Do you live in London?
T: Nah, i'm from Yorkshire!
As an 'outsider' then, what does London mean to you?
T: It's the capital city, but Yorkshire's the real capital. This is just a no-mans land down here! Nah, I'm kidding, London's cool.
Have you ever been to Lovebox before?
T: Nah, I came because Wu-Tang were playing man! It was insane mate, they played every tune I needed them to play – it completely made my day.
What do you love about this festival?
T: It's fuckin' chill mate, everyone's cool as fuck. It's a nice vibe man.
Charlie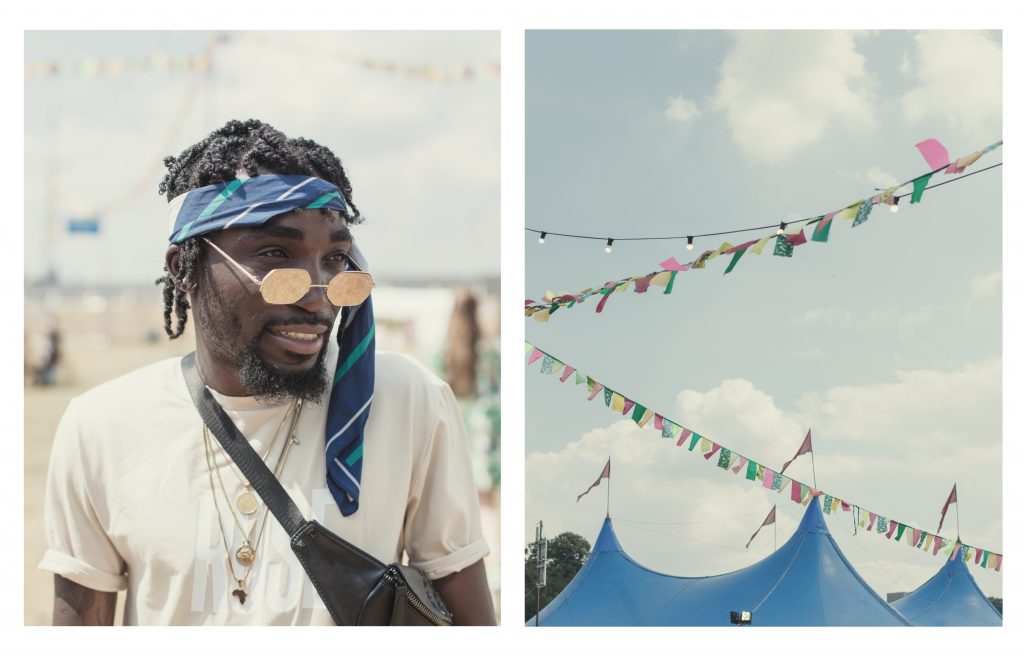 Do you live in London?
C: Yeah, I'm from West London.
And what does London mean to you?
C: I think London is a people place – it's very much a cultural centre as everybody's here y'know? It's the place to be and it's home
Do you feel like Lovebox represents that?
C: It does. I don't like a lot of the London festivals but this is the only one I go to.
What's your favourite memory of being at Lovebox?
C: Performing at Hip Hop Karaoke yesterday. Also last year and the year before, that was fun.
Michael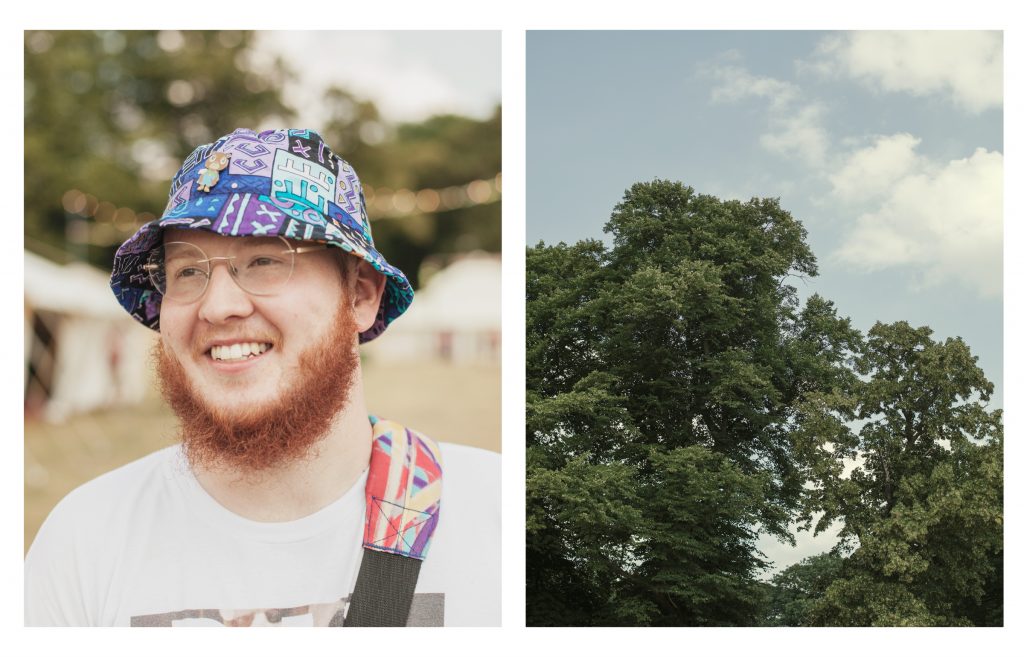 Do you live in London?
M: No, I'm from Newcastle and I'm a student in Nottingham.
What does London represent to you?
M: For me it's about the culture – the diversity in people and the variety of food you can eat, the music you can go listen to. That's why I like it so much.
Do you know much about the London music scene?
M: One or two artists – mainly more on the grime scene and UK hip hop. I love it because it's a place where people can shine despite from coming from very little and then go very far.
Do you think Lovebox does well to push that forward?
M: Definitely. I've just seen one of my friends perform and she was tremendous.
Becka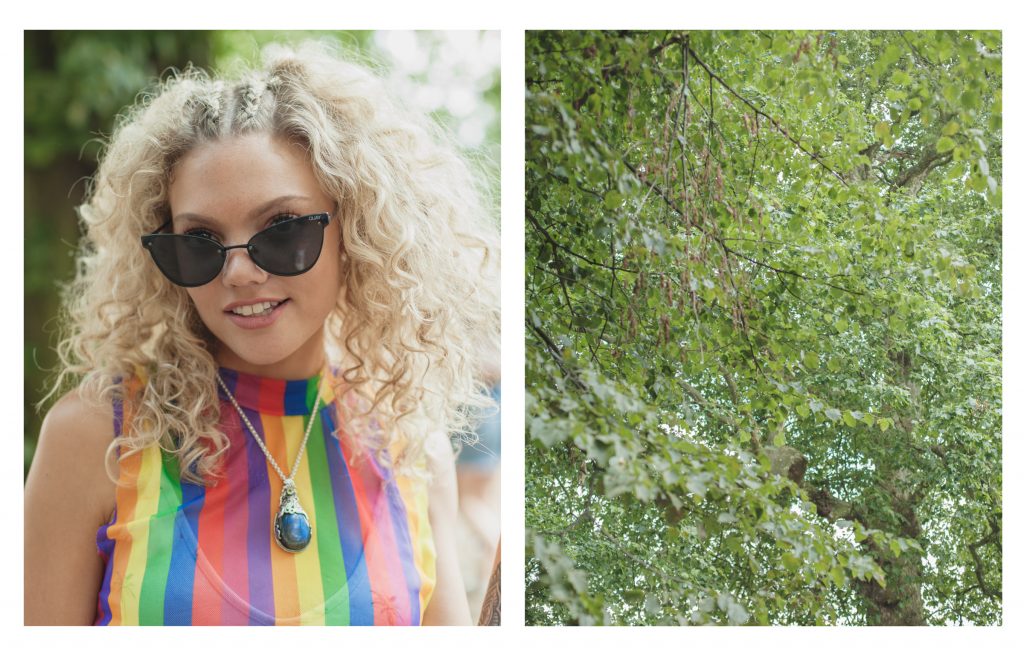 Can you tell me what London means to you?
B: London means being able to do whatever the eff you want to do. Dress how you want to dress, listen to what you want to listen to and people really embrace that. Nobody really judges. I think it's the edgiest, coolest, most carefree city in the world.
How do you think Lovebox embraces that?
B: I think Lovebox is really inclusive of a load of different genres that people in London listen to. So far today I've heard reggae, dancehall, hip hop, house, disco – there's something for everyone. And that's what London is all about.
Shantel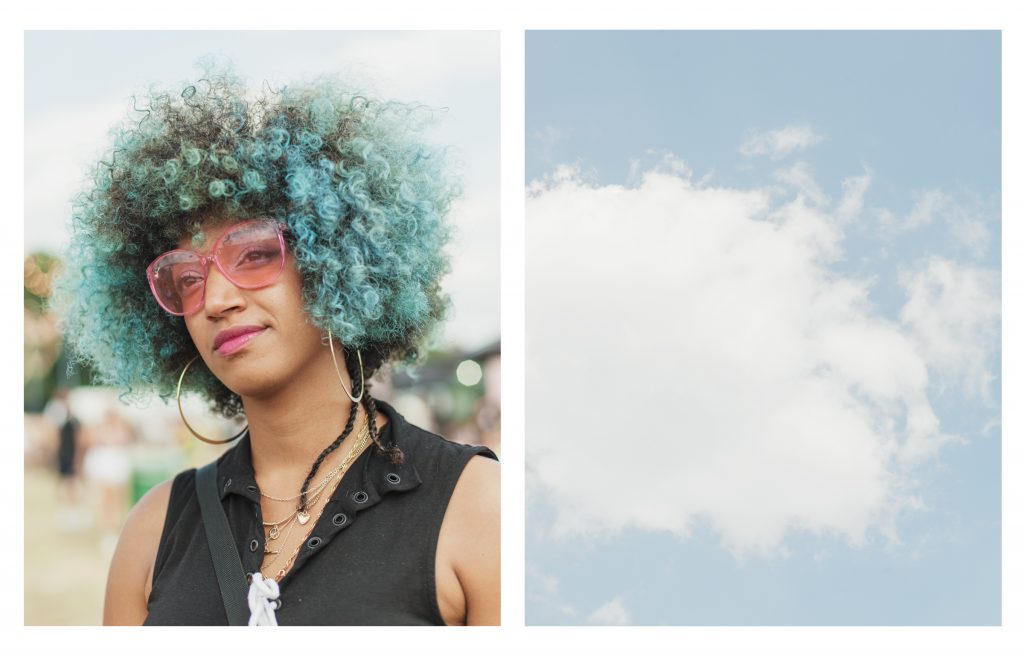 What do you think about London's music scene?
S: I love it! That's one of the main things that keeps me in London. I'm a big music head – I can see any artist I want, big ones and small ones every week.
What's your favourite memory of being at Lovebox?
S: Frank Ocean was good because I was just settling down after a day of being crazy. He was last on and it was a nice way to end the weekend.
Steve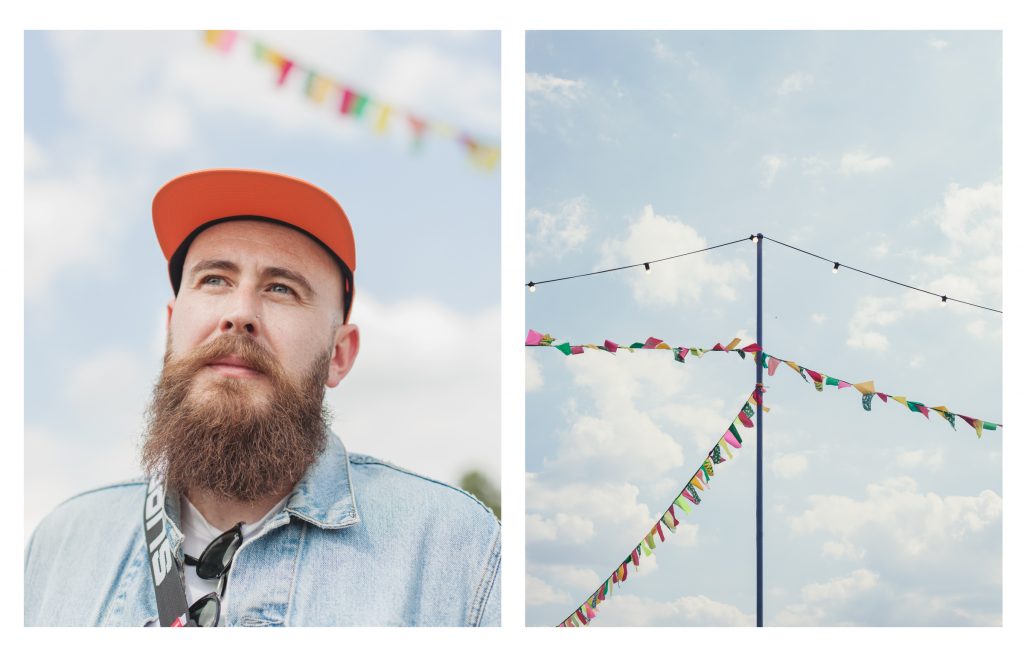 Do you follow the London music scene?
S: I do, I have a few mates who work in different labels, both independent and big so usually I'm at a number of gigs a week. It's a big part of my life.
What are you excited about this weekend?
S: Well yesterday it was Wu Tang Clan. It was amazing. Childish Gambino I'm looking forward to. I went in for Wu-Tang – not to the very front but I was about halfway in and losing my shit.
Hope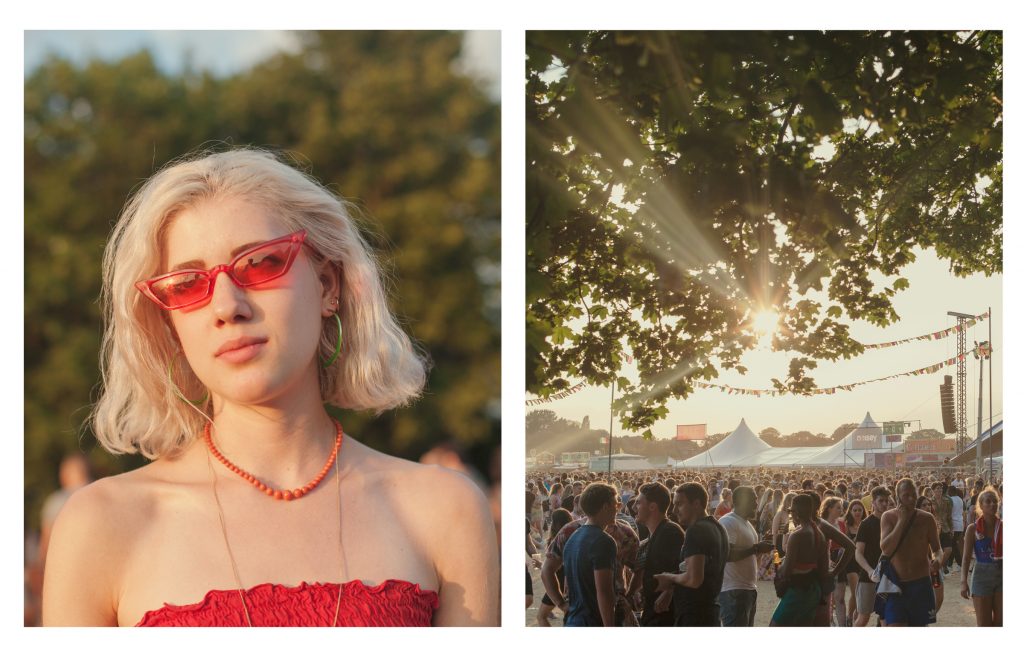 What does London mean to you?
H: London is nice and cosmopolitan, it's a large mix of people from all sorts of walks of life.
What's been the best moment so far for you this year at Lovebox?
H: I really loved Big Boi. He did some really old school OutKast which I didn't expect.
What does Lovebox represent?
H: A huge mix of genres and people – old and young. Y'know you have Wu-Tang Clan from our parents' generation and then everyone's all getting down to the same music. It's really nice.
Stan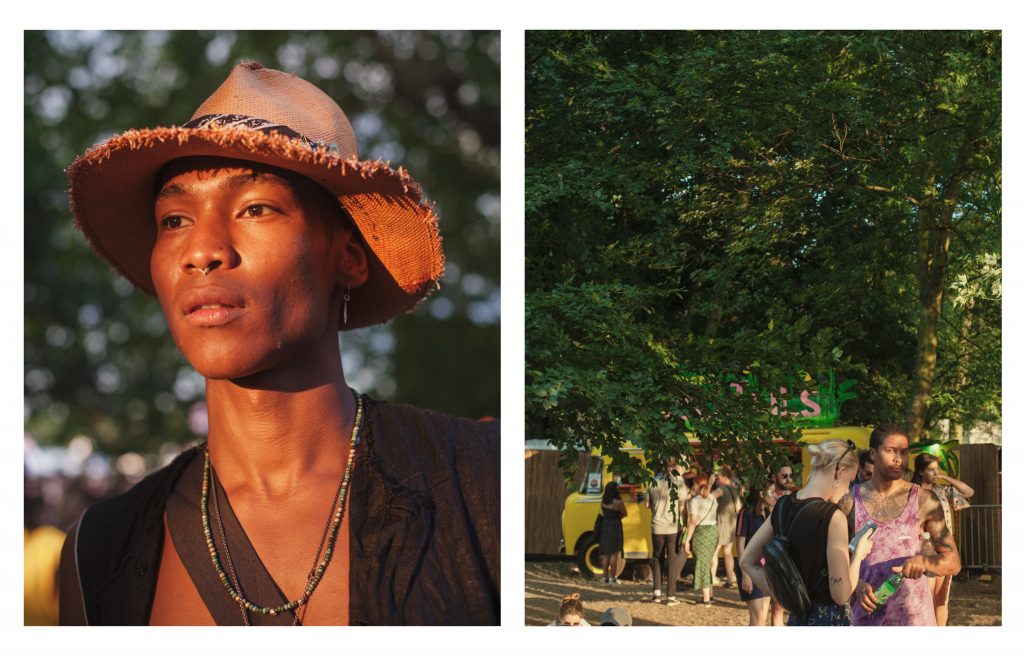 Do you live in London?
S: I came from New York. I've been here for two months and I'm not gonna lie – I love it here. There's nobody putting up barriers around me here. They let me be me here.
What do you make of Lovebox?
S: Because i'm from California I will always say that Coachella is the shit but I'm not gonna lie – this is 100%. People are living.